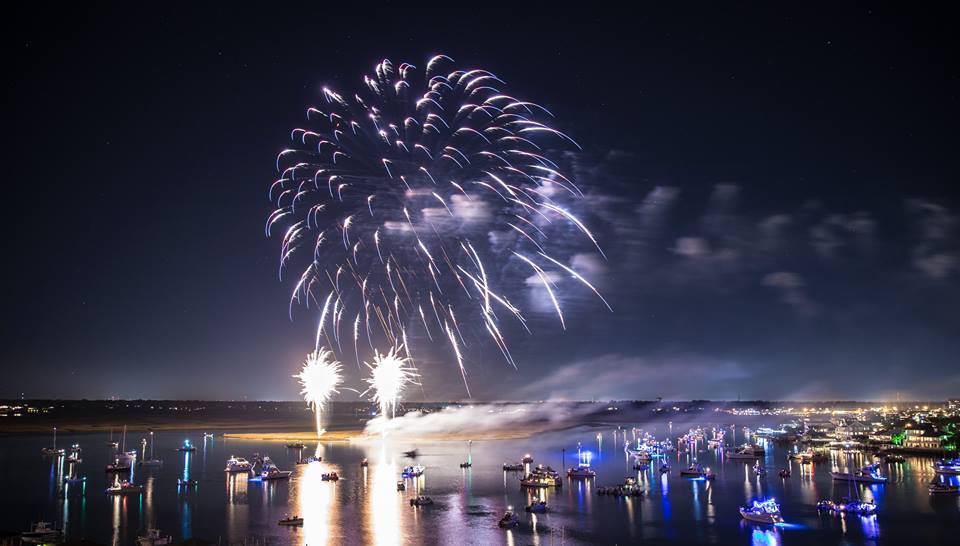 There are three spectacular flotillas between Thanksgiving and Christmas, so pull out your Santa hat and holiday cheer. Flotillas are special boat parades held at the different beaches around Wilmington. Watch as boats float by, completely covered in lights. While this may be fun for most, it is a game for some, as some flotillas have a competitive element.
At the Wrightsville Beach flotilla, for example, cast your vote for your favorite flotilla float.
As these events grow in popularity each year, local communities have added on additional events before and after the spectacle, so check out holiday gift markets, entertainment, and firework shows.
Here are three flotilla parades you do not want to miss:
Nov. 26-27
Friday night, enjoy docks decorating along the water in the Door to Dock contest. Saturday, head to the Wrightsville Beach Town Complex for a full day (10 am to 4 pm) of live music, food trucks, children's activities, a car show, and more. Finally, grab your spot along the water before the boat parade begins at 6 p.m. with a firework show to follow.
The boats will start in the Intracoastal, head through Motts Channel, and out through Banks Channel. Some stake out their spot for several hours, while others make reservations at waterfront restaurants like Dockside.
Island Flotilla in Carolina Beach
Dec. 4
Boats decked out in lights will cruise from Snows Cut to Carolina Beach Boat Basin and back on Saturday, Dec. 4 at 6 p.m. All the boats will compete for prizes and a panel of judges will be on hand to choose winners. Learn more here.
Greater Topsail Flotilla in Surf City
Dec. 11
This popular flotilla has expanded into a market and live entertainment over the years. Enjoy outdoor shopping, eating, and Christmas music from 5 p.m. to 8 p.m. on Saturday, Dec. 11 until the parade begins at 8 p.m. Learn more on Facebook.
Interested in these areas? Check out our neighborhood guide to learn more about life in Wilmington and the North Carolina coast.